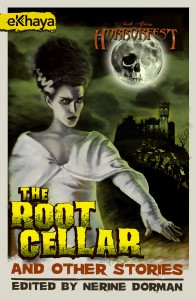 Look at that!
That, there, is a very retro cover. And a beautiful one.
I had this story that I was working on called
The Next Big Thing
, which is about both rather nasty relationship and the hunt for elusive cool. You can read it in
this forthcoming anthology
by eKhaya, the digital imprint of
Random House Struik
.
This came out of the
Bloody Parchment
contest (in association with the
ZA Horrorfest
) which I entered and was a finalist for. It contains mostly South African authors as well as myself, and I'm terribly chuffed to have been selected — not to mention looking forward to having a copy to read, meself.
So mark your calendars for 1st July, when you can go get it. From what I hear from the judges, it's going to be a corker.